Description
---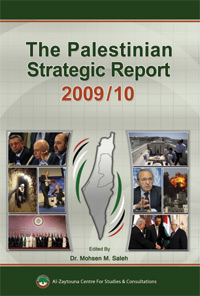 English
Title: The Palestinian Strategic Report 2009/10
Editor: Prof. Dr. Mohsen Mohammad Saleh
Published in: 2011 (1st Edition)
Physical details: 488 pages, 17*24 cm, hardcover
---
This annual referential report, has become an essential classic in the academic realm of Palestinian Studies. It includes the latest and most recent statistical and analytic data on the various developments related to the Palestinian issue.
The 2009/10 report falls in 488 pages and 8 chapters: the internal Palestinian scene, the Israeli-Palestinian scene, the Palestinian issue and the Arab world, the Palestinian issue and the Muslim world, the Palestinian issue and the international setting, the land and the holy sites, the Palestinian dempgraphics, and the WB and GS economic indicators.
The report was prepared by 14 experts in the field of Palestinian Studies, inlcuding: Mr. Abdul Hameed al-Kayyali, Mr. 'Abdullah Najjar, Mr. Hani al-Misri, Dr. Jad Issac, Dr. Johnny Mansour, Prof. Dr. Moein Rajab, Dr. Mohamed Noureddine, Dr. Mohsen Moh'd Saleh, Mr. Suhail Khalilieh, Prof. Dr. Talal 'Atrissi, Mr. Wa'el Sa'd, Mr. Hassan Ibhais, Prof. Dr. Walid 'Abd al-Hay and Mr. Ziad al-Hasan.
---
---
2009 Year Highlights
>> The Judaization and settlement activities in the West Bank and East Jerusalem
>> The continued imposed Arab and International siege on Gaza
>> Iran, Turkey, and the Palestinian issue
---
---
The Palestinian Strategic Report is a highly academic annual report that assesses the Palestinian situation. It rigorously studies the developments of various aspects of the Palestinian issue, i.e., internal political affairs, economic development, demographic indicators, the Arab, Islamic and international stands and the Israeli attitudes and policies, all within an academic, well-documented context that is supported with the most recent statistical data.
This report is the product of a massive team-work exerted by a group of affiliated researchers and specialists; editors, and consultants. It is published both in Arabic and English.
The first Report covered the year 2005. As later reports were released annually, the report was well-received and highly acclaimed, especially within academics. Today, it can be surely asserted that this report is a must reference for every researcher or academic interests in the contemporary developments of the Palestinian issue and the Arab-Israeli conflict. Moreover, its English version is among the few highly academic and objective writings in this field by an Arab research centre.