Reading Time:
2
minutes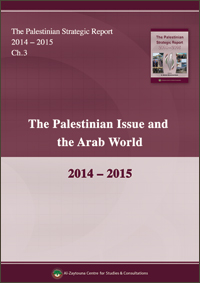 This study is the approved English translation of chapter three of The Palestinian Strategic Report 2014–2015, edited by Prof. Dr. Mohsen Mohammad Saleh. It is an analytical study of the impact of developments in the Arab world on both the domestic Palestinian scene and regional dynamics in 2014–2015. The Arabic version of this Report was released in 2016, and the draft of this chapter was written by Mr. Hasan Ibhais.
This study discusses the impact of Arab world transformations on the Palestinian issue and the role played by the League of Arab States in this context. It explores the stances and roles of some key Arab countries towards the Palestinian issue, where some of those underwent internal transformations like Egypt and Syria, while Jordan was the most stable. As for the Gulf countries, their interaction with different developments in the Arab world in 2014 and 2015 showed further distraction from the Palestinian issue since the beginning of the Arab Spring in 2011.
The chapter also studies the economic relations between Israel and the Arab countries in general, where there was an increase in the trade volume between Israel and its three most prominent Arab partners (Egypt, Jordan and Morocco). As for the Arab public position towards the Palestinian issue, the study reveals that the position of the Palestinian issue among priorities had retreated compared to the prevalence of internal affairs in different Arab countries.
The study is available in Pdf format.
---
Al-Zaytouna Centre for Studies and Consultations, 11/7/2016



---