Reading Time:
2
minutes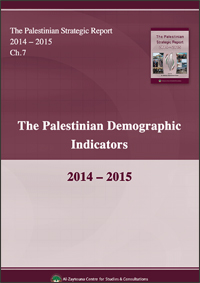 This study is the approved English translation of  the Demographic Indicators section of chapter seven of The Palestinian Strategic Report 2014–2015, edited by Prof. Dr. Mohsen Mohammad Saleh. It is a statistical and analytical study of various demographic indicators of the Palestinian people in 2014–2015. The Arabic version of this Report was released in 2016, and the draft of this section of this chapter was written by 'Abdullah 'Abd al-'Aziz Najjar, the director general of the Censuses Directorate in the Palestinian Central Bureau of Statistics (PCBS) in Ramallah.
This study discusses the numbers of Palestinian population worldwide, demographic characteristics of Palestinians in the West Bank, Gaza Strip, the 1948 territories and Diaspora, in addition to the refugees' status. It also studies the demographic growth trends, and reports the different events and activities held by the Palestinian Diaspora that assured the importance of preserving the right of return.
The study is available in Pdf format.
---
Al-Zaytouna Centre for Studies and Consultations, 18/8/2016

---