Reading Time:
2
minutes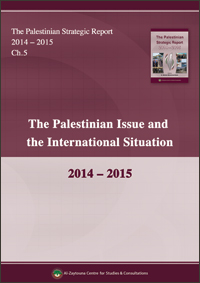 This study is the approved English translation of chapter five of The Palestinian Strategic Report 2014–2015, edited by Prof. Dr. Mohsen Mohammad Saleh. It is an analytical study of the impact of changes in the international situation on the Palestinian issue in 2014–2015. The Arabic version of this Report was released in 2016, and the draft of this chapter was written by Prof. Dr. Walid 'Abd al-Hay.
This study tries to extrapolate various data on the international behavior vis-à-vis the Palestinian issue to 2016. It discusses the performance of the Quartet, This chapter assess two dimensions: constant elements of the international scene on one hand, and the variables on the other, considering their impact on the Palestinian scene. It discusses the major roles played by the Middle East Quartet, UN, US, EU, BRICS, Japan and Amnesty International regarding the Palestinian issue during 2014–2015.
The study is available in Pdf format.
---
Al-Zaytouna Centre for Studies and Consultations, 27/6/2016



---